We are very honored and grateful to Bristol County Sheriff's department, who recently chose Yesteryear Cyclery as the official supplier of service bicycles. The sheriff's department use these bikes in many community endeavors throughout the county including community policing, crowd control and parades.
Lieutenant Paul M. Douglas  chose 4 shiny new 2016 Giant Revel 3 mountain bikes in various sizes which will be distributed amoung different officers during their duties. Paul is a Lt. in the K-9 unit and an avid cyclist himself. We equipped their SUV with an Allen 544RR 4 bike reciever hitch rack and the 4 bikes fit flawlessly.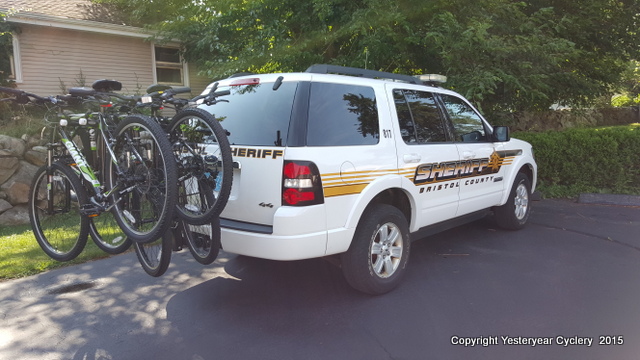 The Bristol County Sheriff's Office SUV "loaded" with 4 brand new Giant Revel 3's in Black.
The Sheriff's Dept has already purchased 4 other bikes used on patrols in the past year which brings their total to 8 Giant bikes !!! We also supply them with white Giro helmets for a perfectly uniform look.  These brave men and women keep us safe everyday and now along with new bikes are helping themselves to stay in better shape as well.  WIN – WIN !!!!