I pride myself on being somewhat philanthopic.  I'm no Bill Gates but I try to share some of my good fortune with less fortunate people when I can.  Whether it be a homeless Hispanic woman with 3 kids in tow pushing a shopping cart on the street or a down and out customer who just can't afford to pay for his bike repair, I try to do my part and help them out.  Everybody probably has one or two charities that they favor or like more than all the others.  Whether its Jerry Lewis and MD or Marlo Thomas and St. Judes Children's Hospital, there are a ton of great causes out there.  I personally have chosen a more local charity as my "go to" group.
A few years ago I was introduced to Jim Stevens, director and CEO of Gifts to Give.  GTG is a non profit, local organization founded by Jim and their sole purpose is to help out Southcoast families who are either homeless or needy.  Gifts to Give was located 1 Cove St. in the south end of New Bedford in a dilapidated old brick mill and recently relocated to a much more modern facility formally operating as one of Titelist Golf's Mfg plants.  It is located at 1 Titlelist Drive in Acushnet, just over the NB line.  This massive production is housed on the entire 2nd floor of this mill and is staffed by over 250 people ALL of whom are voluteers !!!
Gifts to Give accepts donations of good used clothing, toys and other non perishable goods.   I have seen computer monitors, paint sprayers and air compressors even !!! They also just recently opened the Gifts to Give  store which features many great items for sale at ridiculously prices.  From tap dance shoes to designer clothes, great deals can had there and all proceeds go to benefit the center.  They are open Saturdays only from 10-2.  
Where do I and the bike shop fit in to all of this ???  We offer customers the ability to trade in/up older bikes for new ones.  We also sell refurbished used bikes as well.  Sometimes customers bring in bikes to trade that are as well shall say, "Not quite up to Yesteryear's standards ! ".  That's not to say they aren't decent bikes, just cycles that we would not sell in our used bike dept.  We ask the customers to "donate" them to us and we affix a "GTG" tag on them and pile them up in the back shop.  Once a week, usually on Saturday, myself and the service staff drag them out and get them fixed up, using old parts and such.  We make them safe to ride and decent enough to use.  I then pile them, sometimes 2-3 or as many as 8-10 in the company truck and drop them off at the center on my way home from work after GTG is closed.  ( I've got my own key !! )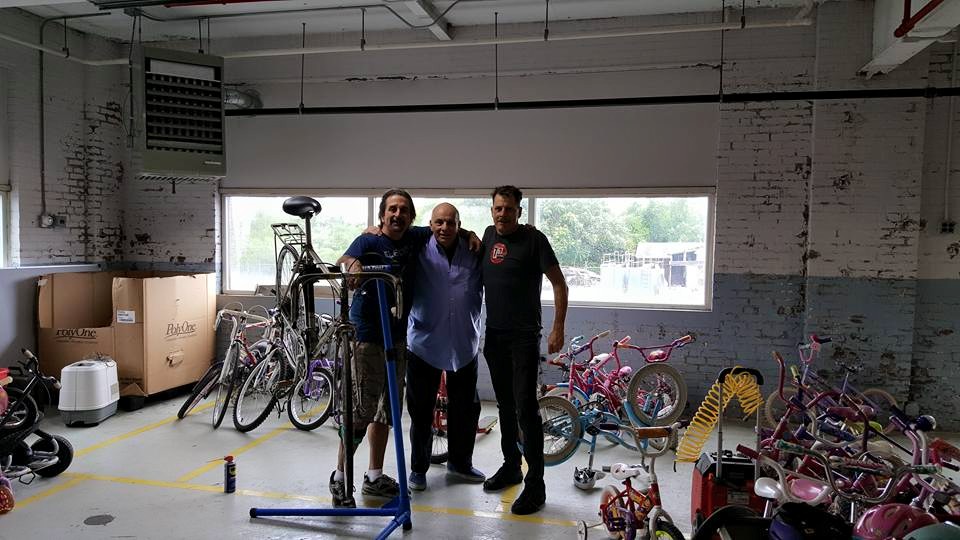 Me                 Jim            Andy
Lots of folks just donate their old bikes to Gifts to Give with other items from their homes and these bikes get piled up in the far corner at the center.  When the pile gets too big Jim or one of his associates contact me and we spend a day  in the "corner" refurbing all the old bikes.  This month it totalled 51 broken or needing service bikes, trikes and scooters !!! I piled a bunch of tires, tubes and cables and headed over with my very good friend Andy Laubi and we met up with Jim Stevens and went to work.  When we were done there was a nice neat pile of ready to go rides for tons of local kids and adults.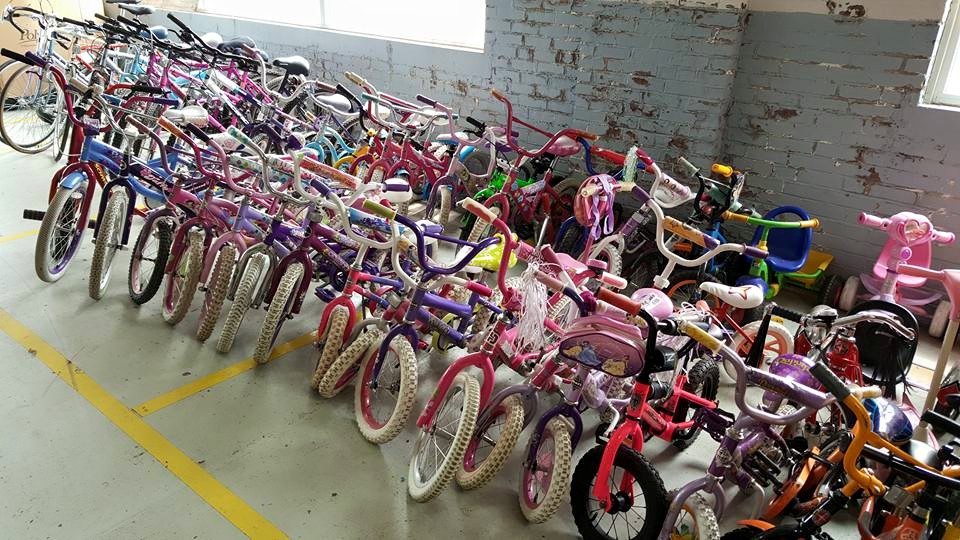 It's truly a rewarding and great experience doing this and just my way of paying it foward.