We are very proud to announce the donation of 2 Saris Cycle Aid Stations to the City of New Bedford.  In an effort to promote more cycling in the city, these custom made work stations will be strategically placed.  One will be near the entrance to Wing's Court in downtown and the other near the visitors center at Fort Taber in the south end.  It was unanimously agreed that these are the 2 highest cyclist traffic areas in the city.  The downtown/Purchase street area has many students from Umass and Fort Taber is a gathering spot for walkers and cyclists both.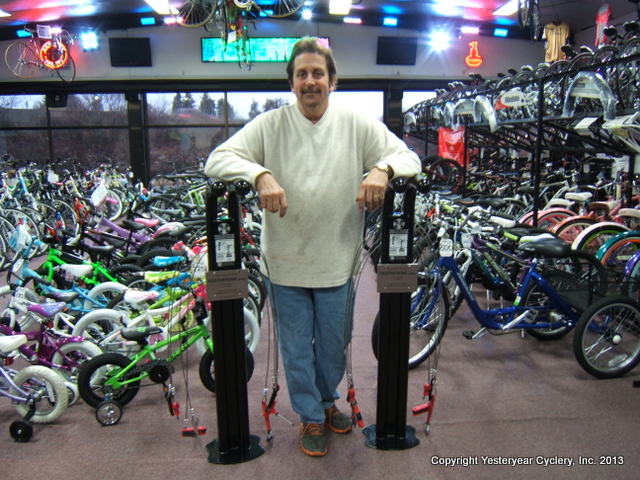 Each one of these workstations are built to order and are available in 12 colors.  They come equipped with 8 heavy duty tools which are the most commonly used in home repair.  Tire levers, pliers, adjustable wrench, torx, phillips and standard screwdrivers make up the set.  They are affixed to the workstation with stainless steel cables and are only able to reach the bicycle that is to be serviced.  These stands are in use in most major cities throughout the United States and are virtually tamper proof. 
In coordination with The New Bedford Bicycle Committee, Mayor Jon Mitchell along with Sarah Clermont who is with Mass in Motion, this whole project was the mastermind of Kim Camara, owner of Yesteryear Cyclery. " I felt it would be a great idea for both residents and visitors to the city to have a way to fix a minor problem 'on the fly' without the need of a service call."  Each workstation has an ID plate with a "QR" code that can be scanned by any smart phone and recieve instant repair tips.  Also affixed to the main tubes is a stainless steel plate which states, "Are you in over your head ??? Give us a call."  with the phone number of the bike shop. We will gladly give over the phone advice and tips or arrange for free pickup and transport to the store to better resolve the problem if the need be so.
Look for these workstations and feel free to use them !!!