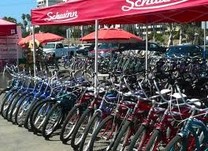 DUe to the Coronavirus situation we have  temporarily 
SUSPENDED
ALL RENTALS FOR THE 2021 SEASON !!!
Bicycle rentals are a big part of Yesteryear's summer business.  We have a large fleet of brand new bicycles available for all your cycling styles.  Cruise along local bike paths while on vacation or a guest that's entered into a local triathlon we can equip you with all you need.  All rentals include a free helmet & lock and our professional staff will fit the bike to you perfectly. 
Please note that during the busy summer months, our fleet is almost always out so please call ahead and reserve.
Rentals
We are now offering a "rent/buy" program.  Are you thinking about an new bike purchase and just can't make up your mind ?  We have a limited selection of high end road bikes and Townie cruisers available for rent.  You can rent the model you are thinking about buying and deduct up to $50 of the rental fee off the price of the bike.  (Certain restrictions apply) and limited models are available…see a sales associate for details.
---
PLEASE  NOTE THAT DURING THE CORONAVIRUS  PANDEMIC, WE HAVE
TEMPORARILY SUSPENDED ALL RENTALS 
2021   rate schedule
DAILY –  24HOURS
WEEKEND –  Fri12-Mon12
WEEKLY –  7 DAYS
MONTHLY –  30 DAYS
Item
Daily
Wk End
Weekly
Monthly
City Comfort
$25
$50
$125
$250
Performance Road
$60
$150
$275
$450
Child Trailer
Capacity 2
$10
$22
$45
$120
Car rack
3 bike limit
$3
$7.50
$15
Just buy it