PRICE MATCH GUARANTEE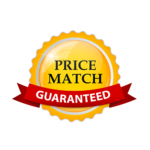 At Yesteryear Cyclery we know that you work hard for your money and you want the best deal possible. So for some peace of mind, we thought we should offer you our PRICE MATCH GUARANTEE. Just follow these simple rules.
Price Match Rules
We will price match retail store prices, not from websites.
The identical item/product must be in stock (same size, color, and style). Manufacturer and model numbers must match. This applies to Yesteryear and the competitor.
We will not allow a discount larger than 40% off of the original retail price.
The competitor must be within 25 miles of our location.
A price match will only apply to (1) of the same item.
Price matching is available for in store purchases within the last 30 days.
Price match does not apply to in store or manufacturers promotions for example (free gift or coupon), closeouts, clearance, liquidation, rewards program, club discounts, sale periods or price errors.
When matching another retailer, Yesteryears Cyclery will follow any limitations and exclusions from the manufacturer.